WE SERVE THE STUDENTS OFTEN OVERLOOKED
Jobs for Alabama's Graduates (JAG) provides specialized support for students who are up against difficult barriers that limit them from reaching graduation and career goals. We pair students with a JAG Specialist who provides group and individualized instruction to help students earn their high school degree, secure a quality job, and/or pursue post-secondary education. Through early intervention including classroom instruction, counseling, employability skills development, and job placement services, our program has seen a 99% graduation rate and 95% full-time job placement rate.
We Provide Educational Support and Success Strategies for Alabama's Highest At-Risk Students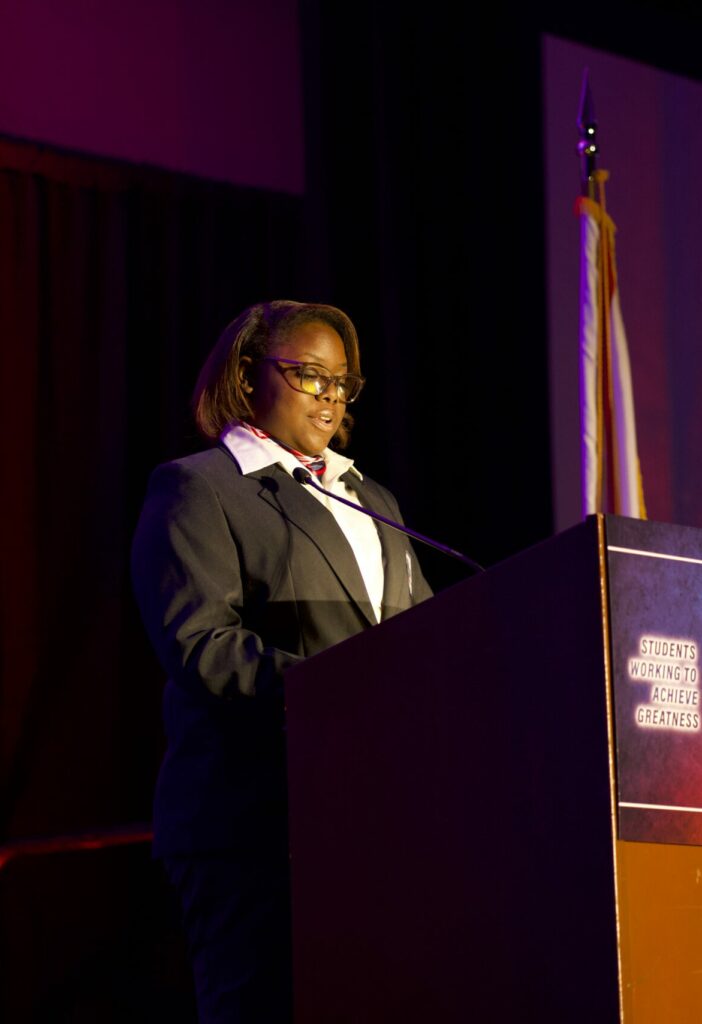 There are thousands of Alabama students who face stifling challenges on a daily basis. Homelessness, basic reading deficiency and incarcerated parents are just a few of the 33 barriers that JAG-eligible students battle that are restricting them from earning a high school degree and pursuing their career and educational goals.
Child of an incarcerated parent

Mother/father did not graduate from high school

Economically disadvantaged as defined by Aid to Families with Dependent Children (AFDC) or free lunch

Past record of excessive absences as verified by school officials
Lacks motivation or maturity to pursue education or career goals

Limited English proficiency

Basic skills deficient (reading and math in particular)
Helping Every Alabama Student Graduate with Opportunity
We Believe In Empowerment and Opportunity Through Education
The lifetime cost of one dropout to taxpayers is $292,000 and an incredible future potential that is unrealized. This is unacceptable. In the 2016-2017 school year, public and private partners provided $1.8 million in funding for JAG programs across Alabama helping 303 out of 308 JAG students reach graduation, secure a meaningful job, and get a strong start in life. That's a return on investment of $96 million. We can do more for Alabama's students and we invite you to help us make graduation a reality for every Alabama student.
Breaking Down Barriers To Success
We provide support for the students who are up against difficult barriers that limit them from reaching graduation and their career goals. We pair students with a JAG Specialist and 60 other students all striving towards the same goals: earning a high school degree, securing a quality, entry-level job, and/or pursuing post-secondary education. Our specialists provide individualized instruction to equip each student with the right tools needed to succeed for generations to come.
We Are a Team of Passionate Go-Getters
Educators raise our children as much as parents do. We have over 42 JAG Specialists who pour themselves into caring and investing in children they don't even call their own. They are a committed group of leaders making a huge impact in their corner of Alabama.
We Don't Rest On Our Laurels
We currently operate 41 programs serving over 1,600 students statewide, and there is so much room for growth. Yes, we surpass the national averages, and yes, we have a graduation success rate in the 99th percentile, but we fundamentally believe the best is yet to come…
Discover How JAG Has Helped High School Students Achieve Their Goals
Data-Driven Dropout Prevention
Surpassing National Averages Year After Year
Graduation Rate of JAG Participants
Total Job Placement & Military Service
Statistics from the Class of 2021
Programs Designed to Increase Success
Explore the Programs That Lead to a 100% Graduation Rate
TEAMTRI
2020-01-10T18:38:22+00:00
The JAG Senior Year Program concentrates on supporting high school seniors most susceptible to dropping out because they are facing 5 or more of the 33 Barriers to Success identified by JAG.
TEAMTRI
2020-01-10T18:38:27+00:00
The JAG Multi-Year Program lasts up to 60 months and includes over 700 hours of professional JAG specialist support.
The Stories Behind The Data
Hear From the Students in our Programs
"When I joined JAG I had no idea that it would be such a great impact on my life. I've learned leadership skills, communication skills, and business skills. Mostly I learned to believe in myself, and that I am enough."

– Tori Harrison, Covington County, Straughn High School
TEAMTRI
When I joined JAG I had no idea that it would be such a great impact on my life. I've learned leadership skills, communication skills, and business skills.
TEAMTRI
My name is Kiera Hood and I consider it a pleasure to share with you my thoughts on our JAG theme this year, "Stop the Drop"!
GET INVOLVED
Together We Can Make a Huge Impact
Stories of Success
JAG National Winners Meet the Governor and Key State Officials In addition to the lights and glamour of winning national acclaim at the recent National Career Development Conference, winners also had a chance to meet with key state officials, including the governor in early June. Alabama JAG could not be more proud of these tremendous young people for their achievements. The future is as bright as their hope.  
HIGHLAND HOME BRINGS HOME COUNTY'S FIRST NATIONAL TITLE By Haley Mitchell-Godwin Highland Home's JAG (Jobs For America's Graduates) team participated in the National JAG Career Development Conference (NCDC) and national competition in Dallas, Texas earlier this month, May 5-7, where they brought home Crenshaw County's first national title and two top 10 placings. Over 600 JAG students from all over the nation attended the championship event with Alabama having the second largest showing of JAG participants. The school's JAG Knowledge Bowl Team won it all in Dallas and will soon be sporting national championship rings. The four-member team consisted of three ninth graders- Amber Majors, Cheyenne Kinman, Savannah Edgar and one-eleventh grader-Dayana Acosta. Knowledge Bowl Team competitions provide students with the opportunity to gain knowledge and skills on various curriculum topics, JAG and parliamentary procedure. The NCA Knowledge Bowl consisted of questions asked by a moderator in a "buzzer style" round.
Fairfield High JAG President is Headed to Howard University Join us in congratulating Fairfield Jag President Ms. Conaway for this amazing achievement! "FAIRFIELD, Ala. — Fairfield High School teachers had priceless reactions when a senior student broke the news she had been accepted into Howard University. The heartwarming moments were captured on video. Check out the clip and learn more about this special student-teacher relationship" Click HERE for that video